Diversity and tolerance vigil takes place on State Capitol steps | News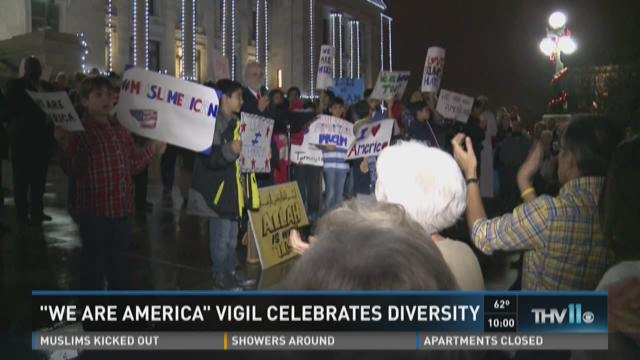 LITTLE ROCK, Ark. (KTHV) -- With so many stories about the divisions over religion and intolerance in America, a gathering took place on Monday to counter that.
On the steps of the Arkansas State Capitol, hundreds of people joined together to support the Constitutional right of religious diversity.
The "We Are America Vigil" centered around one message: religious tolerance.
"Whether they be Hindu, or Muslim, or Jewish, or Buddhist; our country was founded on the ability to respect all religious backgrounds, and so we are here to remember that and celebrate that and encourage others", says Reverend Stephen Copley, a member of the Interfaith Response Team.
Organizers say they were inspired to host the event after a series of terrorist attacks like the ones in San Bernadino and Paris, sparked what they say, was both fear and hatred in Americans.
"There's been a lot of rhetoric, a lot of fear, a lot of divisive talk, that's been happening across the nation. There's been some reason for that fear", says Sara Tariq, with the Islamic Center of Little Rock.
Tariq, a mother of two, says she wants the takeaway for her children and the crowd to be: we are all American.
"Muslims do not represent the terrorism and some of these heinous events that have happened across the country. We are Muslim and these do not in any way represent our values", she goes on to say.
For a moment  the topic turned presidential.
"It's more troubling to hear presidential candidates echo those same hateful ideas and advocate the same policies", Retired Rabbi, Gene Levy told the crowd.
Little Rock Police Chief, Kenton Buckner conceding that even police aren't exempt from bad behavior.
"In many instances, Police Departments have been on the wrong side of history. It is my job as the commander of this agency to make sure that we do not repeat our harms to society and to our citizens", the Chief went on to say.
Other speakers encouraged the crowd not to repeat some of the "dark times" in our nation's history when it comes to intolerance.
"We must, as Dr. King pointed out, redeem that system. Not only must we call out the hateful rhetoric we hear, we also must stand together.
Organizers say, while they understand one event won't change the outlook entirely, they hope events like tonight will start a conversation locally and across the state about religious diversity.